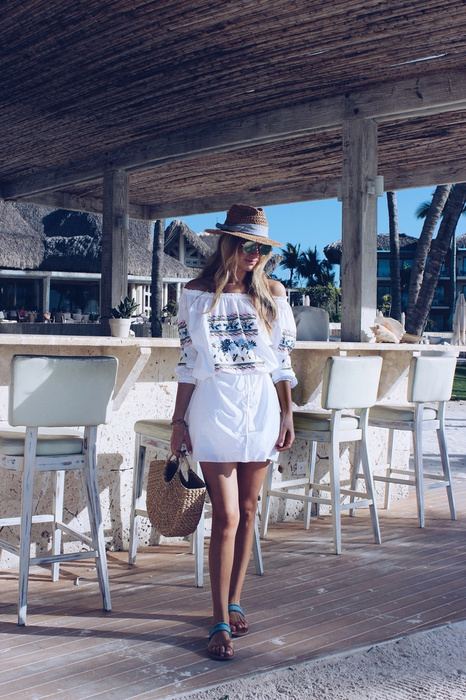 Style Snap Getaway: Cap Cana Cool
Style Snap
Hello Cap Cana! February break is so in! Time for an "Under 100 Club" takeover in Punta Cana! From my sale beach finds (dress meet sandals) to these chic straw accessories (hi hat and bag), my entire look under the sun is composed of all under $100 fashion! As I stroll the sand, scroll on below to score my styles (similar shades below too)!
My Look: Dress, Needle & Thread via Net-A-Porter/Sandals, Ancient Greek/Hat, Hat Attack via Intermix/Shades, Foster Grant #ssCollective #ShopStyle #stylesnapgetaway #under100club
Nailed It
My favorite celebrity looks
Nailed It
The Time's Up movement has officially made it's way to red carpets worldwide! Another 2018 awards show, with another black dress code, is in the books! Enter the BAFTAs! Thanks to these styles coming in from across the pond, this New Yorker officially has three more reasons to love wearing black! Ugh, just when I … Continued
Read Post
Nailed It
The bold, the bright, and the beautiful! (And I'm not just talking about the ladies themselves!) There's street style, and then there's NYFW street style! Factor in hair whipping wind speeds (goodbye blow out), sheets of shoe-threatening rain, bouts of freezing cold, and it makes you wonder how these stars were able to shine just … Continued
Read Post
Nailed It
Can you fit a whole lotta sequins, purple rockstar boots, and mile long trains all onto one red carpet? The best dressed stars of the Grammy Awards 2018 can! If any awards show is made for creative license when it comes to fashion, this be it. The biggest shocker of the night?! The stars going … Continued
Read Post
Nailed It
The red carpet fashion is on! Bring on the jumpsuits, sequins, and feathers oh my! There were so many stand out looks at the SAG Awards 2018! Yara Shahidi is paving her way to best dressed of 2018, rocking a dramatic Ralph Lauren jumpsuit. Mandy Moore gave us more Ralph Lauren in her blue sequin … Continued
Read Post
Behind The Scenes
Join me as I go backstage and on the red carpet to talk to your favorite designers and celebrities!
Behind The Scenes
Watch all the action from the front rows of NYFW FALL 2018! Featuring Joy Corrigan, Kelly Killoren-Bensimon, and fashion from Sachin & Babi, Nine West, Greta Constantine, Tadashi Shoji, BCBGMAXAZRIA, Milly by Michelle Smith, Christian Siriano, and Dennis Basso! Also, scroll on for some of my favorite NYFW essentials (girl's gotta have her LuMee)… Shop … Continued
Read Post
Behind The Scenes
Behind The Scenes with Ann Taylor! I know it's January, but who's ready for Summer on the Amalfi Coast?! Follow me to 11 Howard in SoHo, as I take this exclusive tour of Ann Taylor's Summer Collection with Ann Taylor Style Expert, Emily Evans! It's all about Amalfi influences, embroidery, white denim, lightweight knits and … Continued
Read Post
Behind The Scenes
Watch out! Powerful women on the set! As always, I had a blast talking fashion for Get The Look: Celeb Accessories on The Wendy Williams Show! Along the way I caught up with Brooke Burke-Charvet, who inspired me to try her new fitness app, Brooke Burke Body! What a day of fashion and fitness! Oh … Continued
Read Post
Behind The Scenes
Calling all creators! I was very excited to attend the WeWork Creator Awards Global Finals in New York's Madison Square Garden last night! It was a night honoring entrepreneurs from around the world (with not one, but two million dollar winners)! As my own "Under $100" entrepreneur, I was inspired to hear the visions of … Continued
Read Post