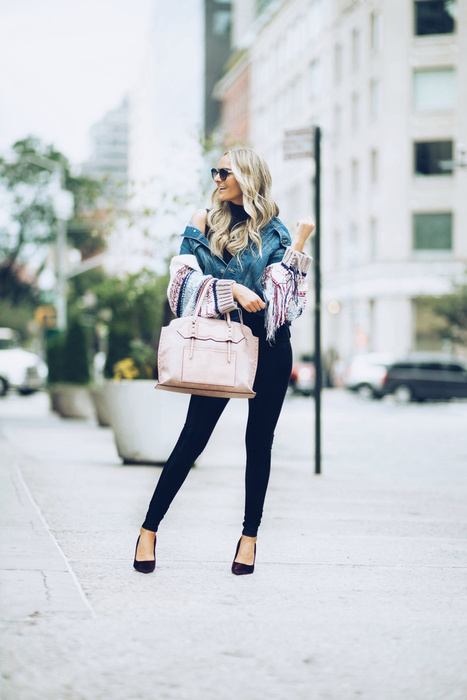 Fringe Benefits
Style Snap
Let's face it, Fall is just better with fringe! Talk about a way to keep your knitwear fresh and fun this season! If we have to start layering (sigh), at least layer in knit details to love, like on this denim jacket. Insider Tip: Pair your fresh knits with edgy leather leggings for an instantly cool street-style look! Shop a similar outfit to mine below!
My Look: Jacket, Zara/Leggings, Aritzia/Top, Net-A-Porter/Shoes, Burlington/Bag, Danielle Nicole
Photo: Gabriel Brandt #ShopStyle #ssCollective #ootd #fringe #shopthestylesnap
Nailed It
My favorite celebrity looks
Nailed It
Well, Good Morning America indeed! Margot Robbie is putting the 'POW!' in power dressing, and having a total fashion moment while doing it. Yes, red trend, yes! You go girl! Margot's red hot Versace separates (en route to GMA in NYC) are the perfect way to take a skirt suit and make it take-notice. Hello … Continued
Read Post
Nailed It
Fur Fabulous!!!! We may be stealing Summer as we make our way through October, but I know that's bound to change (sigh)! When it does, I want to be stealing Olivia Palermo's super chic accessory style! Olivia was a stole-clad standout as she stepped out to the Miu Miu show in Paris! Craving this Charlotte … Continued
Read Post
Nailed It
Oh my meow! Leopard is back and ready to roar for Fall! We are already seeing the stars pack some feline fierceness into their Fall looks and I am loving it! Look no further than Alicia Vikander rocking a spotted mini for a Louis Vuitton event at Paris Fashion Week. Meanwhile, back in NYC, Nicole … Continued
Read Post
Nailed It
It doesn't just stop at the topper. Oh no my friends. The celebrity obsession for Fall plaid continues worldwide and all over your closet! You can rock it as a trench, dress, suit, oh my! Just look at some of your fave supermodels, Alessandra Ambrosio and Hailey Baldwin, in their plaid perfect looks during Milan … Continued
Read Post
Behind The Scenes
Join me as I go backstage and on the red carpet to talk to your favorite designers and celebrities!
Behind The Scenes
Watch as I go behind the scenes at The Wendy Williams Show! I'm sharing all the backstage beauty and fashion moments from Burlington's "Fall Must Haves" fashion show! Plus, check out my insider beauty chat with Frank Guyton and my new lip obsession, Pinkie Swear! Style on everyone!
Read Post
Behind The Scenes
When New York Fashion Week rolls around, it's good to have friends in highly fashionable places! I always get so excited to see what my favorite designers have in store for Spring (so I can start dreaming way ahead of schedule)! From the front rows at Milly By Michelle Smith, Christian Siriano, Cynthia Rowley and Dennis … Continued
Read Post
Behind The Scenes
Get a behind the scenes look at my Summer "Style Snap Getaway" in Italy! See some of the dreamiest places on the Riviera from Le Cinque Terre to Portofino, hotels like La Posta Vecchia, Il Pellicano, Belmond Splendido and get an inside look at the ultimate fashion market in Forte Dei Marmi! Caio!
Read Post
Behind The Scenes
Designer Discount Alert! More style, fresh from The Outnet! I'm excited to share that I've once again partnered with TheOutnet.com to share a new round of trends and steals for "More In A Minute"! Some of my favorite pieces from the set are statements in satin, ravishing red Valentino pumps for 40% off (hello), and … Continued
Read Post