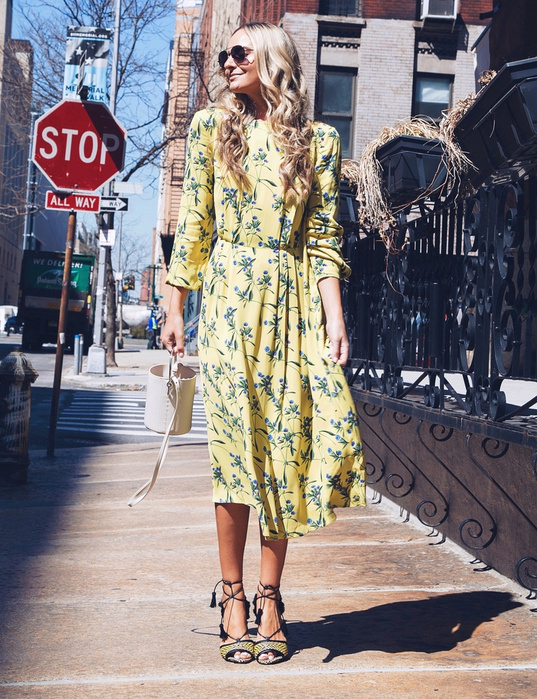 Style Guide: Spring Dress To Impress
Style Snap
Have no fear, The Spring Dress Guide is here! Okay, now we're talking NYC! Savor that moment when you can actually step out, and not freeze in your flowing florals (for now anyway)! As I'm totally in the dress style spirit, I've rounded up some of my favorite fashionable frocks that you can just throw on and go. You can say yes to these Spring dresses, all under $100. Shop below...
My Look: Dress, H&M/Shoes, Zara
Photo: Jae Seok #ShopStyle #SpringStyle #ootd #sscollective #under100club
Nailed It
My favorite celebrity looks
Nailed It
What do you get when you take your typical gala attire and multiply it by 100?! The best dressed stars at the Time 100 Gala! After all, who doesn't love a good gala moment? Jennifer Lopez shined in her usual form, rocking Zuhair Murad (clearly number one on her speed dial). But, hey if it … Continued
Read Post
Nailed It
Time for a little Fashion Friday! Talk about Meghan Markle giving us the sparkle! Hello Altuzarra haute-ness! Nothing like a great look for less to turn Friday into FriYay! If you're wondering how to layer on the chicness for Spring, look no further than this ensemble. It's smart looking from workday to weekend indeed. Great … Continued
Read Post
Nailed It
It's that time again! Bring on the haze of fringe, fishnets, and slashed denim…Coachella style is here. Festive. That's certainly one way to describe the majority of the Palm Springs playground fashions! Enter Emily Ratajkowski, who saved the day with her refreshing white button down look via Revolve (and for under $200)! In fact, the … Continued
Read Post
Nailed It
Get out those picnic baskets (no really, it's a handbag trend) and grab onto that gingham…again! Spring is here, and gingham is back for good! In the case of Blake Lively, it's go big or go home! I say the bigger the gingham, the better it looks on Blake! Having worn gingham multiple times myself … Continued
Read Post
Behind The Scenes
Join me as I go backstage and on the red carpet to talk to your favorite designers and celebrities!
Behind The Scenes
Spring shoes have ARRIVED! I had way too much fun talking shoes, booties, and sandals oh my with Wendy Williams! From sunny yellow espadrilles to ultraviolet to polka dots, we talked the hottest Spring silhouettes that you need south of your ankles! Oh, and I have great news fashionistas, you can scroll on to score … Continued
Read Post
Behind The Scenes
Spring has SPRUNG! That's right, leave it to Wendy to say it best. She always does! It may have been blizzard like conditions in NYC, but that didn't stop our Burlington Spring style fling on the set of The Wendy Williams Show. From gorgeous green gingham, to bold yellow suit separates, powerfully playful florals, and … Continued
Read Post
Behind The Scenes
Watch all the action from the front rows of NYFW FALL 2018! Featuring Joy Corrigan, Kelly Killoren-Bensimon, and fashion from Sachin & Babi, Nine West, Greta Constantine, Tadashi Shoji, BCBGMAXAZRIA, Milly by Michelle Smith, Christian Siriano, and Dennis Basso! Also, scroll on for some of my favorite NYFW essentials (girl's gotta have her LuMee)… Shop … Continued
Read Post
Behind The Scenes
Behind The Scenes with Ann Taylor! I know it's January, but who's ready for Summer on the Amalfi Coast?! Follow me to 11 Howard in SoHo, as I take this exclusive tour of Ann Taylor's Summer Collection with Ann Taylor Style Expert, Emily Evans! It's all about Amalfi influences, embroidery, white denim, lightweight knits and … Continued
Read Post