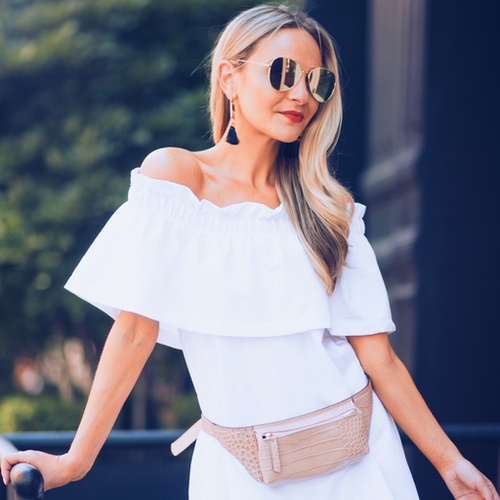 Sights On Summer
Style Snap
Oh hey Summer, I see you! Sun's out, get those white dresses out ladies! How about under $30 for an off-the-shoulder gem?! Don't be afraid to add the accessories of the season! My fanny is packed and ready to go! (Ahem, it's actually a belt bag when it's this fancy)! Shop my H&M dress below, as well as some other bargain faves!
My Look: Dress, H&M/Shades, JustFab/Earrings, Danielle Nicole/Belt Bag, & Other Stories
Photo: Gabriel Brandt #shopthestylesnap #under100club #ssCollective #ShopStyleCollective #ootd #MyShopStyle
Nailed It
My favorite celebrity looks
Nailed It
Don't ASK how she's going to use the tiny little airplane restroom in this onesie, but when Bella looks this good, who cares?! Bella Hadid is rocking the look of my dreams when it comes to summer ease! Not only am I loving the nod to the corset trend that this Reformation jumper is putting … Continued
Read Post
Nailed It
And the Tony goes to… Well for best dressed, the answer is as easy as 1, 2, 3! Olivia Wilde is ravishing in this plunging red gown by Michael Kors Collection. This dress is like the ultimate poster child when you think Tony Awards. Am I right?! Chrissy Teigen is serving up chic and sleek … Continued
Read Post
Nailed It
You go girl! That's what I would say to sound totally embarrassing if I spotted Olivia Munn rocking this gingham in person. Gingham. Now there's a thought. It's not going anywhere folks. Picnic chic is SO huge for Summer. This is an instant way to throw on a little dress, and stay as cool as … Continued
Read Post
Nailed It
Chic is in the Cannes. Pun? Don't mind if I do! What's black, white, and pink all over? The best looks from the Cannes Film Festival of course! From Diane Kruger's black dress perfection (Jonathan Simkhai) to Nicole Kidman's tulle dream (Calvin Klein by Appointment), the cleaner looks were speaking the loudest for me. Kendall … Continued
Read Post
Behind The Scenes
Join me as I go backstage and on the red carpet to talk to your favorite designers and celebrities!
Behind The Scenes
Beauty Alert! Today at The View, it was time for some major lifestyle and beauty steals on "View Your Deal"! I especially loved discovering the Dafni Hair Straightening Brush in the glam room before the show. Talk about easy to use! It heats up and straightens like a traditional straightener, but functions like a brush! … Continued
Read Post
Behind The Scenes
I just love my makeover segments with Burlington! (I wonder if it has anything to do with all the bargain shopping?) This time around, for The Wendy Williams Show, it was all about Spring ready style! Some of my favorite styling tricks included tons of pastels, sunny yellow hues, bold stripes, fresh florals, denim, and … Continued
Read Post
Behind The Scenes
I was so excited to watch this movie, that I even played the entire original on the plane ride to LA, just to get into the spirit! I fell in love all over again with the tale as old as time! It was so exciting to attend Disney's Beauty And The Beast premiere on behalf … Continued
Read Post
Behind The Scenes
Where else can you bump into Mandy Moore, the Hilton sisters, or Karolina Kurkova just taking a little stroll? Only in the front row! I had so much fun bouncing between shows like Alice + Olivia, Christian Siriano, Dennis Basso, Naeem Khan, Jenny Packham and more! Some of my favorite looks? A princess pink tulle … Continued
Read Post