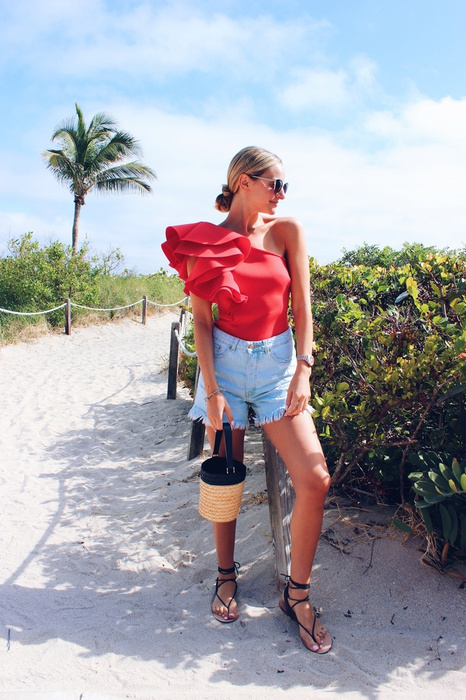 Style Snap Getaway: Miami Reset
Style Snap
New Year, New Style! I was so excited to escape the cold, and soak up the South Beach sun heading into the New Year! I shed some layers, but kept all the style! Can we talk about this show stopping ruffled bodysuit by Bebe? Did I mention it's Under $100?! That's right, my "Under 100 Club" taking the Miami boardwalk by storm! My style outlook is feeling brighter already! I see you 2018! Shop my look below!
My Look: Top, Bebe/Shorts, Zara/Bag, Bloomingdale's/Sandals, Splendid #ssCollective #ootd #shopthestylesnap #under100club #stylesnapgetaway
Nailed It
My favorite celebrity looks
Nailed It
And now, this next style message from the stars on the 2018 red carpet. Spring is now. With every ounce of color, boho glamour, and flowing chiffon that hit the Critics' Choice Awards red carpet this year, these celebs made for a complete style change up from the Golden Globes. Talk about a fashionable breath … Continued
Read Post
Nailed It
Often, women wear black to formal affairs and red carpets alike because it's safe. Because it's chic. Because it's elegant. Because it's slimming. In 2018, nearly all the stars chose to wear black to the Golden Globes because it's empowering. Holla! Sending a message happened to set the stage for some seriously strong, chic fashion. … Continued
Read Post
Nailed It
I'm sensing 2018 style stardom is in her future…and this is the way to kick it off right! Shock in power pink today, just like Gal Gadot in Oscar De La Renta! If you're looking for a cute co-ord to cure those sluggish January outfit blues, look no further! (I hear you NYC'ers braving this … Continued
Read Post
Nailed It
Well, another fashionable year has gone by (thanks in large part to these celebs)! Let's close out 2017 with a look back at the 5 most stylish stars of the year! From Selena's street style A-game, to Zendaya's transformative triumphs, to Margot Robbie's winning sultry style streak, Nicole Kidman's classic-meets-edgy elegance, and Mandy Moore's emergence … Continued
Read Post
Behind The Scenes
Join me as I go backstage and on the red carpet to talk to your favorite designers and celebrities!
Behind The Scenes
Need some last minute holiday style inspo? Take a behind the scenes look at some of my favorite instant holiday outfits! From "The Plaid Coat" to "The Statement Scarf" (mine by Type Alpha) or "The Velvet Dress"…here are some of my top festive style picks! Add any one of these style stars to your holiday … Continued
Read Post
Behind The Scenes
Follow me to La La land, where I join Steve Harvey on Steve to share my Burlington Holiday Gift Guide! Take a peek inside the Universal lot, and keep watching for a surprise visit from the big guy (yes I'm talking Santa)! Happy Holidays from LA!
Read Post
Behind The Scenes
There are dresses, and then there are Christian Siriano dresses. For over 10 years I've watched him create "Dresses To Dream About". I am even lucky enough to wear one or two myself from time to time! I can safely say being dressed by Christian is always more than a fantasy fulfilled! That's why it's … Continued
Read Post
Behind The Scenes
Have you heard? Wearing pajamas out couldn't be more in. Note, there's a big difference between "pajama dressing trend" and that old tee+sweats you throw on with your scrunchy! That's why I love the luxe appeal of the silky designs by new label HARK+HAMMER! Brand alert! I gave their dark floral separates a spin for … Continued
Read Post