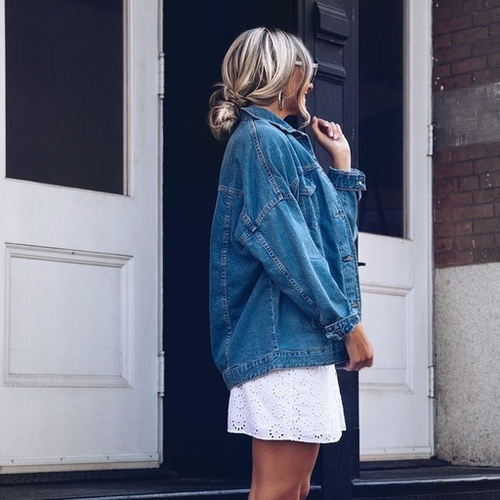 Style Guide: The Jean Jacket
Style Snap
Denim, but no distress here! Don't be afraid to oversize that jean jacket for Summer (no matter what your boyfriend says)! It's the BFF to your white dress, it's your nighttime shoulder pal, it's basically your everything when it comes to a utility Summer throw on! So get one, like now! Shop denim jackets for Under $100 below!
My Look: Jacket & Dress, Zara
Photo: Jae Seok #ShopStyle #shopstylecollective #shopthestylesnap #under100club
Nailed It
My favorite celebrity looks
Nailed It
Make like Olivia Munn and do your denim onesie style! Ah, the denim jumpsuit…so easy, so genius (until you have to use the ladies room)! I know! If only we could have everything in life. For now, I'll settle on scoring denim style for less! Sometimes I forget how much denim serves a purpose in … Continued
Read Post
Nailed It
'Tis the season to put your best wedding guest foot forward. Step 1, clearly you want to exude an incredible sense of style. Step 2, you should probably steer clear of all things white and (sometimes) black. Step 3, you might not want to upstage the bride (on purpose). Step 4, be mindful of anything too … Continued
Read Post
Nailed It
Kendall to Cotillard, Laura to Lupita, get ready for the freshest looks out of the Cannes! (Pause for the pun.) The 2018 Cannes Film Festival was full of refreshing fashion, from floaty white (Kendall meets Lupita) to the new little black dress (Laura Harrier in Louis Vuitton) and even gorgeous gingham (you know I'm obsessed, … Continued
Read Post
Nailed It
Bella, oh so bella! Sometimes it's the simplest of looks that shine the brightest, even from across the sea! Bella Hadid's Cannes casual look has me thinking Summer nights done right! Crisp white top, hoops, metallic heels, and you have yourself a warm weather jeans uniform. Normally, you can't pay me enough to squeeze into … Continued
Read Post
Behind The Scenes
Join me as I go backstage and on the red carpet to talk to your favorite designers and celebrities!
Behind The Scenes
Blake, Yara, Selena oh my! Summer is upon us and the stars are already accessorizing accordingly…from colored shades to fanny packs and big, (I mean seriously BIG) hats! I covered it all with Wendy Williams on today's Get The Look: Celebrity Summer Accessories segment! Want to get in on the micro-shade or the oversized hat … Continued
Read Post
Behind The Scenes
Spring shoes have ARRIVED! I had way too much fun talking shoes, booties, and sandals oh my with Wendy Williams! From sunny yellow espadrilles to ultraviolet to polka dots, we talked the hottest Spring silhouettes that you need south of your ankles! Oh, and I have great news fashionistas, you can scroll on to score … Continued
Read Post
Behind The Scenes
Spring has SPRUNG! That's right, leave it to Wendy to say it best. She always does! It may have been blizzard like conditions in NYC, but that didn't stop our Burlington Spring style fling on the set of The Wendy Williams Show. From gorgeous green gingham, to bold yellow suit separates, powerfully playful florals, and … Continued
Read Post
Behind The Scenes
Watch all the action from the front rows of NYFW FALL 2018! Featuring Joy Corrigan, Kelly Killoren-Bensimon, and fashion from Sachin & Babi, Nine West, Greta Constantine, Tadashi Shoji, BCBGMAXAZRIA, Milly by Michelle Smith, Christian Siriano, and Dennis Basso! Also, scroll on for some of my favorite NYFW essentials (girl's gotta have her LuMee)… Shop … Continued
Read Post