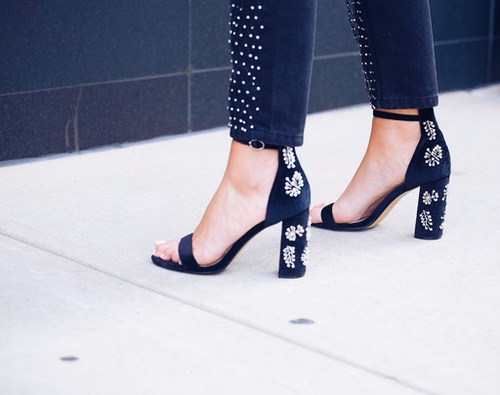 Holiday Style Guide: The Party Shoe Edit
Style Snap
Bedazzling, velvet, gold, and gorgeous...yes, it's time to pop on those dancing shoes! Warning: a major style moment is about to take place south of your ankles! I've rounded up the best high heels for holiday without the high price tag! Merry "Under 100 Club" to all and to all a good party night out!
My Look: Shoes, Topshop
Photo: Natalie Walsh #ShopStyle #ssCollective #shopthestylesnap #under100club
Nailed It
My favorite celebrity looks
Nailed It
That's right! Celebs and street stylers alike are suddenly grabbing for their favorite teddy to keep warm, and no I'm not talking the bear. This is strictly coat business! Teddy coats are a major must have for braving cooling climates (I see you NYC). Just look at Rosie Huntington-Whiteley in her camel Max Mara number! … Continued
Read Post
Nailed It
Saint Laurent Spectacular! Here before us stands the most stunning of all the stunning sequin dresses I've seen this season, as presented by Margot Robbie (attending The Gotham Awards)! This look has all the makings of what one looks for in a knockout holiday dress and is by far my favorite dress of the week! … Continued
Read Post
Nailed It
I now present to you, a short style story. "The Art of Layering Like a Total BOSS" compliments of Kat Graham. Work those Max Mara coated layers, work them girl! This, my fashionista friends, is how you dominate in the neutral zone. Insider Tip: Use different textures to magnify your look when mixing multiple layers in … Continued
Read Post
Nailed It
If you think wearing black makes you basic, think AMAs 2017! Enter the style blacklist (aka the best dressed list)! Turns out being on the blacklist is in! Selena Gomez in this Coach number leads the pack, giving us edgy Sandy from Grease a la so now. Ciara is serving up major shine in Alexandre Vauthier … Continued
Read Post
Behind The Scenes
Join me as I go backstage and on the red carpet to talk to your favorite designers and celebrities!
Behind The Scenes
There are dresses, and then there are Christian Siriano dresses. For over 10 years I've watched him create "Dresses To Dream About". I am even lucky enough to wear one or two myself from time to time! I can safely say being dressed by Christian is always more than a fantasy fulfilled! That's why it's … Continued
Read Post
Behind The Scenes
Have you heard? Wearing pajamas out couldn't be more in. Note, there's a big difference between "pajama dressing trend" and that old tee+sweats you throw on with your scrunchy! That's why I love the luxe appeal of the silky designs by new label HARK+HAMMER! Brand alert! I gave their dark floral separates a spin for … Continued
Read Post
Behind The Scenes
Who inspires you in your life? I am lucky to have some incredible women to answer that question with. One in particular, really. My mom, Joy Mangano! That's why I'm so proud for you all to be inspired by her first book, Inventing Joy! What an honor to have the one and only Iman, along … Continued
Read Post
Behind The Scenes
Watch as I go behind the scenes at The Wendy Williams Show! I'm sharing all the backstage beauty and fashion moments from Burlington's "Fall Must Haves" fashion show! Plus, check out my insider beauty chat with Frank Guyton and my new lip obsession, Pinkie Swear! Style on everyone!
Read Post