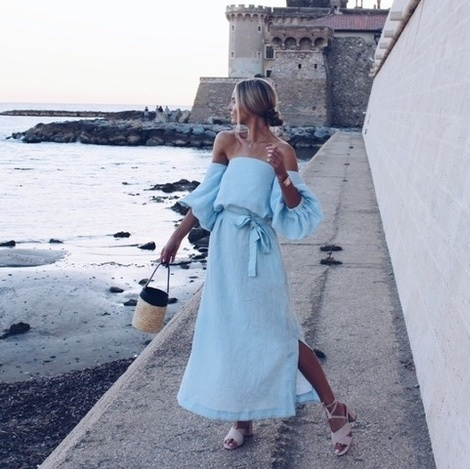 Style Snap Getaway: Burst That Bubble
Style Snap
Burst that bubble sleeve! Edge of the world, meet my bubble sleeve dress (for less)! Anyone who knows luxe vacation style knows Lisa Marie Fernandez! For my romantic Roma evening at La Posta Vecchia, I couldn't image anything better, score included! Shop this look on sale below!
Nailed It
My favorite celebrity looks
Nailed It
Kate Beckinsale, or Kate BACK-insale?! Kate is back on the red carpet with a vengeance! Okay not that she really went anywhere, but boy am I loving her style outings for The Only Living Boy! Each time she steps out her looks get hotter and haute-r! That is why she is my style star this … Continued
Read Post
Nailed It
When it comes to celebs rocking the dot, Olivia Palermo was spot on in this Diane Von Furstenberg frock! It's no secret that I am obsessing over the polka dot trend, and leave it to Olivia to nail the look with a Summer ease. Insider Tip: How do you take the retro reference (I'm thinking … Continued
Read Post
Nailed It
Now for today's Monday motivation…maximizing your mini! How's that for alliteration?! I'm just so in love with Elizabeth Olsen in this MAJOR mini dress by Marc Jacobs at the Ingrid Goes West premiere in Hollywood. But, she wasn't alone in her sparkling stunner! She was totally twinning (on purpose, duh) with her co-star, Aubrey Plaza, … Continued
Read Post
Nailed It
Oh, holy denim divine! Put a cherry lip on top of your Friday, it's Charlize Theron crossing the street like the atomic blonde that she is! Does street style get any cooler (or hotter) than this? If you want to put the denim in your weekend, look no further than Charlize's transitional, season-less chicness! Add … Continued
Read Post
Behind The Scenes
Join me as I go backstage and on the red carpet to talk to your favorite designers and celebrities!
Behind The Scenes
Party In The Hamptons! What an honor to be asked to the #StandOut celebration of incredible women and stylish shoes held by Nine West and Crowns By Christy this weekend! I am more than obsessed with some of the newest shoes I spied over cocktails and crowns, so I just had to share this "shoe … Continued
Read Post
Behind The Scenes
Big news! Yes, I've partnered with TheOutnet.com to talk "Summer Style" for less! Think over 350 designer brands at up to 75% off…oh the possibilities! Same day shipping to The Hamptons for Summer too? Now we're talking! Talk about a dream segment, am I right? Woo hoo!  Take a behind-the-scenes look at my travels to … Continued
Read Post
Behind The Scenes
Watch now as I go behind the scenes with the gang at ABC's The View, for a super fun "View Your Deal" Summer Style segment! There is a little bit of everything I love…from Ora Delphine leather handbags to styling shades from Foster Grant, and more! My favorite part of course, there are some major … Continued
Read Post
Behind The Scenes
Brand Alert! Once in a while, every bargainista has a luxe moment. Enter Verdad. I was recently sent this uber chic denim jumpsuit to wear to a WeWork event in NYC, and to say it's a stunner is an understatement. Trust me, it takes a lot to get me in denim come Summer! The fit is … Continued
Read Post