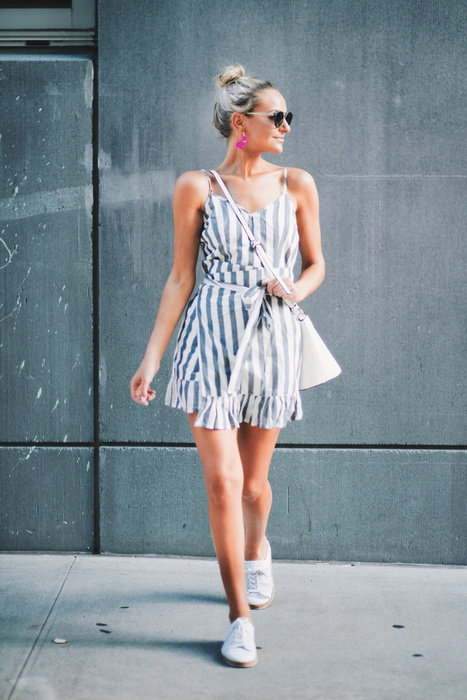 Beat The Heat
Style Snap
Well, if you can't beat the heat! Join it in a cute dress on sale! It's about that time for a full Summer sale round up, but for now here's a sneak peek! Insider Tip: as the temps soar, turn the heat up on your look with a killer pair of hoops and a top knot! Voila! Click below to score my look for even less!
My Look: Dress, Shopbop/Earrings, BaubleBar/Shoes, Marc Fisher/Bag, Bloomingdale's/Shades, Foster Grant
Photo: Gabriel Brandt #ssCollective #ootd #lookoftheday #summerstyle #shopthestylesnap #under100club #jackiemiranne
Nailed It
My favorite celebrity looks
Nailed It
Oh, holy denim divine! Put a cherry lip on top of your Friday, it's Charlize Theron crossing the street like the atomic blonde that she is! Does street style get any cooler (or hotter) than this? If you want to put the denim in your weekend, look no further than Charlize's transitional, season-less chicness! Add … Continued
Read Post
Nailed It
Now for your Fashion Friday viewing pleasure, I present Olivia Culpo at the Espy Awards in Summer white done right. I love that Olivia paired her Mario Dice dress with white sandals to create a clean, streamlined look. Insider Tip: wearing one neutral palette from head to toe can be oh so flattering, and easy … Continued
Read Post
Nailed It
What a fresh way to fly! High envy alert! Just the newest evidence that models like Miranda Kerr can make anything look like a runway, including the airport runway! If you want to take cues on how to make it work, even right in your travel wardrobe, give this look the once over! I am … Continued
Read Post
Nailed It
Pippa Perfection! Game, Set, Match. And the winner is lace…pink lace! I am an easy aficionado of anything pink (and lace for that matter), so it comes as no surprise that this look is my pick of the week! Pippa Middleton looked like a perfect pink lady while attending Wimbledon this week.  It's safe to … Continued
Read Post
Behind The Scenes
Join me as I go backstage and on the red carpet to talk to your favorite designers and celebrities!
Behind The Scenes
Watch now as I go behind the scenes with the gang at ABC's The View, for a super fun "View Your Deal" Summer Style segment! There is a little bit of everything I love…from Ora Delphine leather handbags to styling shades from Foster Grant, and more! My favorite part of course, there are some major … Continued
Read Post
Behind The Scenes
Brand Alert! Once in a while, every bargainista has a luxe moment. Enter Verdad. I was recently sent this uber chic denim jumpsuit to wear to a WeWork event in NYC, and to say it's a stunner is an understatement. Trust me, it takes a lot to get me in denim come Summer! The fit is … Continued
Read Post
Behind The Scenes
I think I've died and gone to bauble heaven! Hello BaubleBar! I was so excited to get a behind-the-scenes look at all things BaubleBar for Summer inside their chic NYC showroom. You had me at the pink couch! I spied all the best trends to rock south of your earlobes from pom pom, to fringe, … Continued
Read Post
Behind The Scenes
Beauty Alert! Today at The View, it was time for some major lifestyle and beauty steals on "View Your Deal"! I especially loved discovering the Dafni Hair Straightening Brush in the glam room before the show. Talk about easy to use! It heats up and straightens like a traditional straightener, but functions like a brush! … Continued
Read Post