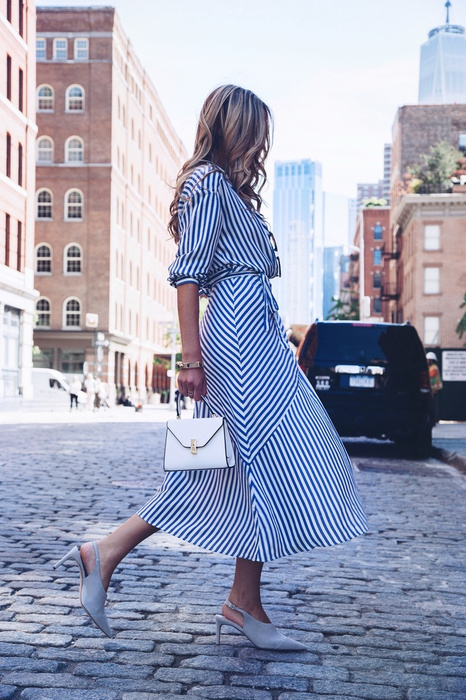 Seeing Stripes
Style Snap
Seeing Stripes? Welcome to my world! If I had to pick one style to take with me on a deserted island, it would likely involve stripes! (Don't tell polka dots I said that!) Luckily, we don't have to be forced into any heavy commitments here, because my H&M dress is well under $100! That's what I call an easy add to your Summer collection! Shop the entire look below, as well as some similar faves to add some stripe to your step!
My Look: Dress & Shoes, H&M/Bag, Forever 21
Photo: Jae Seok #ShopStyle #under100club #shopthestylesnap
Nailed It
My favorite celebrity looks
Nailed It
Is anyone heading to the South of France for the weekend, by chance? If so, can you take me (and this wide leg perfection lo0k) with you?! Talk about cranking your Friday style up a notch to full on riviera-ready status! Naomi Campbell went high volume, while in my favorite Summer getaway spot in all … Continued
Read Post
Nailed It
What do you call this slam-dunk sculptural Zendaya look (August Getty Atelier), mixed with one part Mandy Moore (Alberta Ferretti) and the other part, Jasmine Sanders in monochramatic yellow (Alexander Terekhov)? The Mavens of MTV! (Now that sounds like a good show idea)! We all know the night of the golden popcorn calls for a … Continued
Read Post
Nailed It
It's the Tony Awards gone totally chic! Is it me or is this carpet getting more stylish with each and every year?! Uzo, Kerry, and Carey meet florals, sunshine, and metallic pantsuits in the heart of NYC! Hello, cue jazz hands! I'm obsessed! Kerry Washington stole it in a Versace onesie (hello, it's a onesie)! … Continued
Read Post
Nailed It
Kourtney, Naomi, Lupita, oh my! Kourtney Kardashian in Christian Siriano, Naomi Campbell in Calvin Klein, Lupita Nyong'o in Versace! I smell a CFDA Awards Round Up! From studded suits to flowing fringe and epic mini dress proportions, these ladies brought the fashion to the biggest awards night in…well, fashion. Talk about getting a CFD-A for … Continued
Read Post
Behind The Scenes
Join me as I go backstage and on the red carpet to talk to your favorite designers and celebrities!
Behind The Scenes
Blake, Yara, Selena oh my! Summer is upon us and the stars are already accessorizing accordingly…from colored shades to fanny packs and big, (I mean seriously BIG) hats! I covered it all with Wendy Williams on today's Get The Look: Celebrity Summer Accessories segment! Want to get in on the micro-shade or the oversized hat … Continued
Read Post
Behind The Scenes
Spring shoes have ARRIVED! I had way too much fun talking shoes, booties, and sandals oh my with Wendy Williams! From sunny yellow espadrilles to ultraviolet to polka dots, we talked the hottest Spring silhouettes that you need south of your ankles! Oh, and I have great news fashionistas, you can scroll on to score … Continued
Read Post
Behind The Scenes
Spring has SPRUNG! That's right, leave it to Wendy to say it best. She always does! It may have been blizzard like conditions in NYC, but that didn't stop our Burlington Spring style fling on the set of The Wendy Williams Show. From gorgeous green gingham, to bold yellow suit separates, powerfully playful florals, and … Continued
Read Post
Behind The Scenes
Watch all the action from the front rows of NYFW FALL 2018! Featuring Joy Corrigan, Kelly Killoren-Bensimon, and fashion from Sachin & Babi, Nine West, Greta Constantine, Tadashi Shoji, BCBGMAXAZRIA, Milly by Michelle Smith, Christian Siriano, and Dennis Basso! Also, scroll on for some of my favorite NYFW essentials (girl's gotta have her LuMee)… Shop … Continued
Read Post