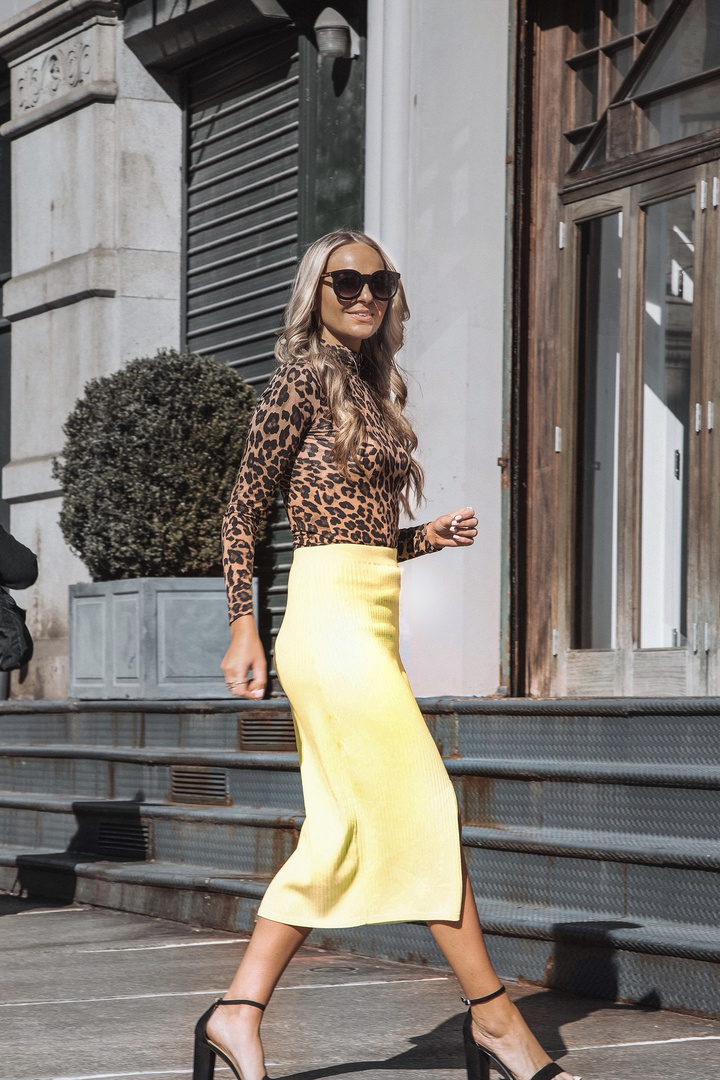 Spring On The Set
Style Snap
Hot Off The Set! Stepping into this sunshine after a day on the set, I have one thought in mind: Spring! Don't be fooled by the sunshine, the neon trend goes on and on. This skirt packs full citrus neon power combined with the softness of a cozy knit fit for just $50! Thanks Free People! I also figured, why not go all out with some leopard pop on top via H&M! I don't know which is softer, the top or the bottom! Great news, you can shop my entire exact look below. So soft yet so loud all at the same time!
My Look: Top, H&M/Skirt, Free People/Shoes, Sam Edelman
Photo: Jae Eun Seok #ShopStyle #stylesnap #under100club
Nailed It
My favorite celebrity looks
Nailed It
Bring on the Spring baby! Call me crazy, but I do believe the weather in NYC will eventually catch up with our Spring style, and when it does I want to look like Lupita! Look at those Springy separates! It's clear by now bold color is trending for the season, and no one wears it … Continued
Read Post
Nailed It
Say hello to the new plaid. It's colorful, powerful, and playful all at the same time! It's infused with palettes of green, blue, orange, you name it! It's mini, it's midi, it's head to toe too! If celebs at Paris Fashion Week have a say, this trend is continuing into bigger and bolder territory for … Continued
Read Post
Nailed It
Talk about a mint moment! I mean, can you even handle all this look?! Paris better stop and smell the breath of minty-fresh air that Zendaya is throwing down. Come ON! This look is so amazing (oh hey Sally LaPointe)! If you feel like Spring is SO close, yet SO far, then take some delight … Continued
Read Post
Nailed It
Gemma, Kiki, Regina! Oscars 2019! Let's talk about it! First of all, everyone really looked gorg! Of course, we all know it has been the era of Gaga! It's no surprise she took the good old go-to black gown and crushed it not once, but twice (in Alexander McQueen and later in Brandon Maxwell)! The … Continued
Read Post
Behind The Scenes
Join me as I go backstage and on the red carpet to talk to your favorite designers and celebrities!
Behind The Scenes
Welcome to Fashion Month! February is officially my month to kick off new style at NYFW and beyond! Oh, and speaking of new kicks, I am so excited to be celebrating the Month Of Style with FitFlop! Can we talk about these statement sneakers?! I mean!!! They're studded, they're scalloped, and they're flat-out comfortably fabulous! … Continued
Read Post
Behind The Scenes
Fall Shoe Alert! Let's face it, NYC doesn't go easy on anyone. Especially when you're running around in stilettos! One step out the door, and there's that pothole! NYC you've met your match! Time to meet The Riley by Kenneth Cole, aka my new amazing ankle boots to conquer the season in style (because yes, I can … Continued
Read Post
Behind The Scenes
Where are all of my influencers at?! This really is a brand new territory for me as of 2018, so I was excited to sit down with Rachel Zeilic of Clique Media to talk all things on-camera and getting started in influencer-land! For me, as I work with the goal of building a social media … Continued
Read Post
Behind The Scenes
Where the front row meets my Under $100 Club!!! I was so excited to take Payless behind the scenes for the Christian Siriano Spring 2019 fashion show! The best part? Along with the incredible runway style and the star studded front row (think Carmen Electra to Whoopi Goldberg)…my AMAZING booties were under $40! Holla! I paired my … Continued
Read Post