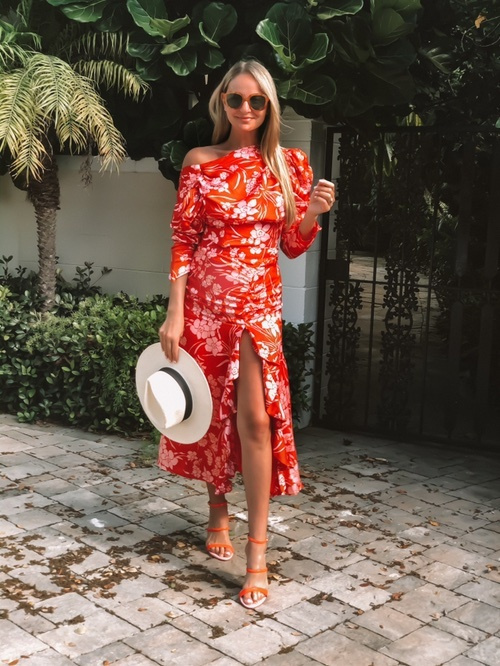 February Refresh
Style Snap
Goodbye winter blues, hello summer(ish) sunshine! Post-fashion week felt like the perfect time to escape to Florida for some sun and fun! I am more than obsessed with these Song of Style separates each on sale under $100! Score! And can we talk about the shoes?! Thanks Net-A-Porter sale! Shop my entire sale-worthy look below!
My Look: Top & Skirt, Revolve/Shoes, Net-A-Porter #ShopStyle #stylesnap #stylesnapgetaway #under100club
Nailed It
My favorite celebrity looks
Nailed It
Without fail, the Oscars have a way of bringing out that classic sense of old-Hollywood glamour. Bring on the sparkling champagne sequins, satin ballgowns, and black tie ready gems. This was, once again, the case with my favorites from the 2020 red carpet. From Charlize Theron (Dior Haute Couture) to Brie Larson (slaying in Celine), … Continued
Read Post
Nailed It
Sure, you gotta love a red carpet of pink cowboys and Gucci masks. Oh, the fashion mixed bag that is the Grammys! But who brought the chic?! Hello, Lizzo! She owned the night in white Atelier Versace (let's not forget to mention her Christian Siriano stage look too). Chrissy Teigen set the classic cool girl … Continued
Read Post
Nailed It
Equal parts playful and equal parts sleek & chic, the SAG Awards 2020 red carpet served up just a little bit of everything. Iconic starlets like Reese Witherspoon (Celine) and Charlize Theron (Givenchy Haute Couture) brought their glam game. Jennifer Aniston (Christian Dior) brought her usual game, but this time in white! Ah, refreshing! The … Continued
Read Post
Nailed It
Color, pattern, nude…you name it! The stars went abs out and style forward at this year's Critics' Choice Awards and I was ALL for it. From Zendaya's Barbie-armour (Tom Ford) to JLo's nude-y neutral return to glory (in Georges Hobeika)…just like Awkwafina's ray of sunshine gown (Elie Saab) suggests, these are the the kind of … Continued
Read Post
Behind The Scenes
Join me as I go backstage and on the red carpet to talk to your favorite designers and celebrities!
Behind The Scenes
More than just a fairytale…I could never have imagined my wedding to be as beautiful it was the day I married Sean Patrick Coffin on August 23, 2019 in Puglia, Italy. The setting: compliments of the iconic and graciously elegant Borgo Egnazia. The love: supplied by our families coming together for 7 days, 7 nights, … Continued
Read Post
Behind The Scenes
Welcome to Fashion Month! February is officially my month to kick off new style at NYFW and beyond! Oh, and speaking of new kicks, I am so excited to be celebrating the Month Of Style with FitFlop! Can we talk about these statement sneakers?! I mean!!! They're studded, they're scalloped, and they're flat-out comfortably fabulous! … Continued
Read Post
Behind The Scenes
Fall Shoe Alert! Let's face it, NYC doesn't go easy on anyone. Especially when you're running around in stilettos! One step out the door, and there's that pothole! NYC you've met your match! Time to meet The Riley by Kenneth Cole, aka my new amazing ankle boots to conquer the season in style (because yes, I can … Continued
Read Post
Behind The Scenes
Where are all of my influencers at?! This really is a brand new territory for me as of 2018, so I was excited to sit down with Rachel Zeilic of Clique Media to talk all things on-camera and getting started in influencer-land! For me, as I work with the goal of building a social media … Continued
Read Post