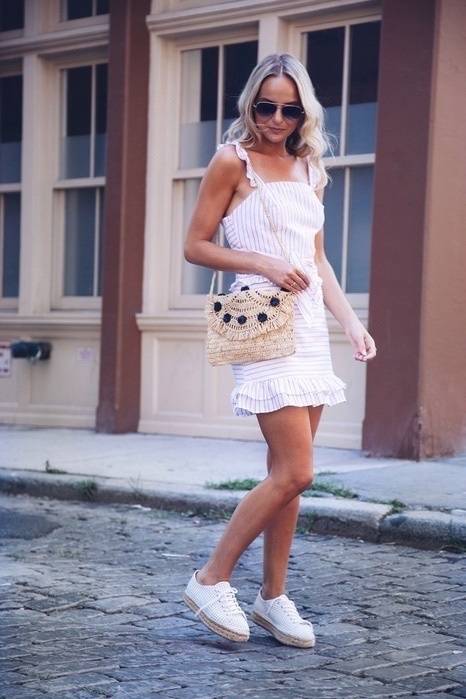 Skirt Set
Style Snap
Set Chic! This is not a joke, just yesterday I overheard one girl tell another girl she's obsessed with sets (where else but at a fashion party)! So it turns out I'm NOT the only one! Yes, I'm having a moment where I want to live in co-ord fashion only! Is that too much to ask? I think not...especially when a Summer set this cute is Under $100 total! Set for life! Shop the look and similar accessories below!
My Look: Top & Skirt, Bloomingdale's/Bag, Sezane
Photo: Jae Seok #ShopStyle #under100club #shopthestylesnap
Nailed It
My favorite celebrity looks
Nailed It
And now, time for my favorite look of the week, which is also coincidentally my pick for best dress by far at the ESPY Awards 2018. Ciara is sunshine all the way in this Toni Maticevski canary concoction, and she single handedly carried the ESPYS red carpet to a style win! I live for a … Continued
Read Post
Nailed It
Bonjour ladies! Ooh la la, I am picking up the Parisian chic you are all throwing down. From Karlie Kloss and Emma Roberts at Christian Dior Haute Couture to Tracee Ellis Ross at Valentino, I am basking in their neutral glamour. These celebs are bringing lacy, flowy, and floaty versions of the same idea…keep it … Continued
Read Post
Nailed It
Let's hear it for the red, white and ooh! As in, ooh la la I like your style girl! Look no further than Victoria Beckham (in Paris), Rita Ora, and Olivia Munn's pretty polka dot romper to bring some festive 4th style inspiration! Whether you want to rock the uber casual or the uber chic … Continued
Read Post
Nailed It
Is anyone heading to the South of France for the weekend, by chance? If so, can you take me (and this wide leg perfection lo0k) with you?! Talk about cranking your Friday style up a notch to full on riviera-ready status! Naomi Campbell went high volume, while in my favorite Summer getaway spot in all … Continued
Read Post
Behind The Scenes
Join me as I go backstage and on the red carpet to talk to your favorite designers and celebrities!
Behind The Scenes
Hey Summer shoes, how you doin?! I was so excited to share the latest Summer-ready flats, sandals, and platforms this week on The Wendy Williams Show! From stripes to leopard, tassels, espadrilles and more…there are so many ways to have fun south of your ankles whether you're poolside, countryside, or city bound. As per my … Continued
Read Post
Behind The Scenes
Nashville style, here we go! Where can you go to shop with Reese Witherspoon and Kristin Cavallari South of NYC?! I've got ya covered in my "Getaway Guide: Shopping In Nashville"! For my 3-day stay at The Thompson Nashville, I had so much fun exploring all of the style that this charming, boutique-heavy city has … Continued
Read Post
Behind The Scenes
Blake, Yara, Selena oh my! Summer is upon us and the stars are already accessorizing accordingly…from colored shades to fanny packs and big, (I mean seriously BIG) hats! I covered it all with Wendy Williams on today's Get The Look: Celebrity Summer Accessories segment! Want to get in on the micro-shade or the oversized hat … Continued
Read Post
Behind The Scenes
Spring shoes have ARRIVED! I had way too much fun talking shoes, booties, and sandals oh my with Wendy Williams! From sunny yellow espadrilles to ultraviolet to polka dots, we talked the hottest Spring silhouettes that you need south of your ankles! Oh, and I have great news fashionistas, you can scroll on to score … Continued
Read Post