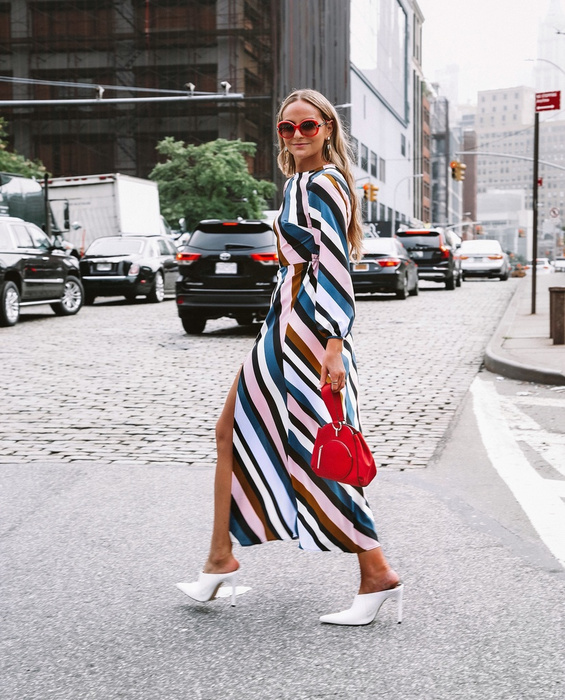 Front Row Stripes
Style Snap
More scenes from NYFW! I'm having a striped Under $100 moment and I don't care who knows it! I've had so much fun finding creative ways to bring affordable fashion to the high fashion scene this week! I love this Topshop + Danielle Nicole Bag + Zara Mule combo! The shoe I've been living in? Anything white please! Shop similar mule styles for Under $100 below!
My Look: Dress, Topshop/Bag, Danielle Nicole/Shoes, Zara/Sunglasses, The Outnet
Photo: Jae Seok #ShopStyle #shopthelook #stylesnap #under100club #nyfw #ootd
Nailed It
My favorite celebrity looks
Nailed It
She is Victoria Beckham, hear her ROAR!!! Leave it to the poshest style star in all the land to design, stylize, and wear this season's hottest trend via herself! Warning: me talking about animal print is going to be like me talking about polka dots this past Spring, in that you're going to hear it … Continued
Read Post
Nailed It
And the Emmy goes to…power pink, whimsical white, and embellishment oh my! The best dressed stars at the 2018 Emmy Awards found a whole multitude of stylish ways to have that red carpet wow moment! You go celebs! Mandy Moore was cute as can be raving about her custom Rodarte (I mean I would totally … Continued
Read Post
Nailed It
One thing is for certain according to celebs coming out of NYFW…the suit is here to stay. From blazer dresses, to plaid pairings, to turned-up night out separates, celebs were well suited this week in NYC! Emily Ratajkowski is serving one of my favorite ways to change up the look for the season, a la … Continued
Read Post
Nailed It
When in Rome, or make that Venice! The stars were oozing so much Italian glamour at this year's Venice Film Festival, it made it hard to choose my five favorites! A star was definitely born when Lady Gaga stepped out in her fluffy Valentino Couture concoction (can you say high fashion cotton candy dreams)! Sleek … Continued
Read Post
Behind The Scenes
Join me as I go backstage and on the red carpet to talk to your favorite designers and celebrities!
Behind The Scenes
Where the front row meets my Under $100 Club!!! I was so excited to take Payless behind the scenes for the Christian Siriano Spring 2019 fashion show! The best part? Along with the incredible runway style and the star studded front row (think Carmen Electra to Whoopi Goldberg)…my AMAZING booties were under $40! Holla! I paired my … Continued
Read Post
Behind The Scenes
It's NYFW! You know what that means, time to shine! I was thrilled to partner with jewelry brand, ZAXIE By Stefanie Taylor, after discovering their baubles at a recent launch party in NYC! For my first day of shows I chose some of my favorites from the collection, each for Under $100! Hello "Under 100 … Continued
Read Post
Behind The Scenes
Waiting to exhale?! I highly recommend visiting Lake George, NY in the Summer! I was so excited to discover this peaceful, tranquil, and proximate getaway spot for a recent wedding-guest weekend! What an easy trip for us NYC gals! I loved rocking my wardrobe finds at The Sagamore Resort, and guess what?! They were all … Continued
Read Post
Behind The Scenes
Hey Summer shoes, how you doin?! I was so excited to share the latest Summer-ready flats, sandals, and platforms this week on The Wendy Williams Show! From stripes to leopard, tassels, espadrilles and more…there are so many ways to have fun south of your ankles whether you're poolside, countryside, or city bound. As per my … Continued
Read Post