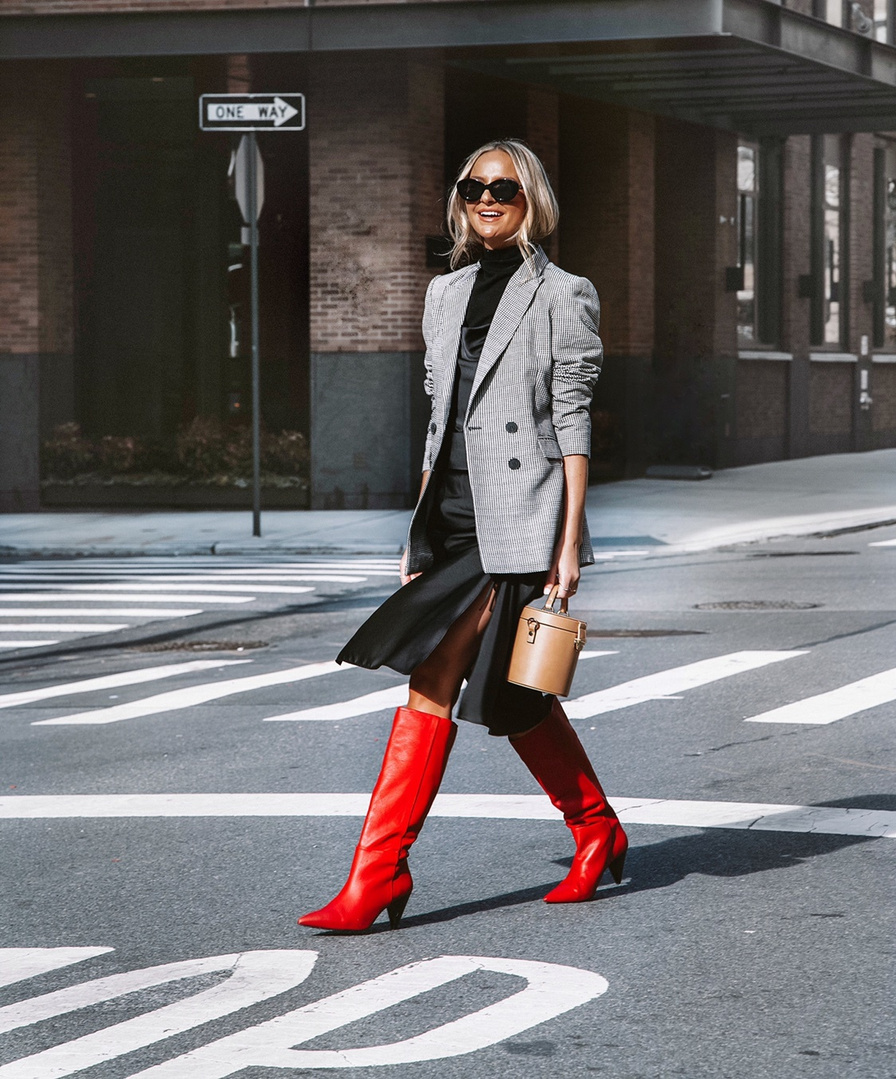 Winter Sale Guide: My Top Mango Picks
Style Snap
So Chic, So On Sale! Seriously, who doesn't love a red leather boot for winter? Or a plaid blazer for...everything! Well mine come compliments of Mango and both are major scores! In fact, winter sales are hot and heavy, and a great way to warm up my January at the moment! Have you hit a Zara lately?! Shop my favorite finds from the Mango sale below including this blazer and boots combo. Happy shopping!
My Look: Blazer & Boots, Mango/Dress, Zara
Photo: Jae Eun Seok #ShopStyle #MyShopStyle #ContributingEditor #Under100Club #stylesnap
Nailed It
My favorite celebrity looks
Nailed It
Can it be?! 2019 awards season in full style swing already?! If the Golden Globes goddesses have anything to say about it, it's officially here and in most fabulous fashion. Sure there was your typical mixture of actresses parading the usual drippy metallics, whimsical tulle and jewel toned frocks, but that's exactly what sign up … Continued
Read Post
Nailed It
From JLo to Zendaya, big statement dresses are closing out 2018 in GRAND style…and I couldn't be more Gaga over them (see what I did there)! Here is a rundown of some of the biggest and brightest dresses we've seen both recently and throughout the year…the gowns so big they won't soon be forgotten.  After … Continued
Read Post
Nailed It
Ohhhh, to be warm and so chicly stylish. Behold the power of what a good blazer can do for your work wardrobe (and beyond)! I can't tell you how many times I find myself reaching for this exact turtleneck-type combo at the moment pre-meeting. Maybe I'm cut from the same cloth as Natalie Portman (except … Continued
Read Post
Nailed It
Want to rock power red for the holidays? How to master wearing red with black accessories sans the Mrs. Claus references? Red lip or no red lip? Look no further than two Emma's and one Hailee for endless red holiday style inspiration! From Emma Stone in Louis Vuitton to Emma Roberts in Christian Dior, or … Continued
Read Post
Behind The Scenes
Join me as I go backstage and on the red carpet to talk to your favorite designers and celebrities!
Behind The Scenes
Fall Shoe Alert! Let's face it, NYC doesn't go easy on anyone. Especially when you're running around in stilettos! One step out the door, and there's that pothole! NYC you've met your match! Time to meet The Riley by Kenneth Cole, aka my new amazing ankle boots to conquer the season in style (because yes, I can … Continued
Read Post
Behind The Scenes
Where are all of my influencers at?! This really is a brand new territory for me as of 2018, so I was excited to sit down with Rachel Zeilic of Clique Media to talk all things on-camera and getting started in influencer-land! For me, as I work with the goal of building a social media … Continued
Read Post
Behind The Scenes
Where the front row meets my Under $100 Club!!! I was so excited to take Payless behind the scenes for the Christian Siriano Spring 2019 fashion show! The best part? Along with the incredible runway style and the star studded front row (think Carmen Electra to Whoopi Goldberg)…my AMAZING booties were under $40! Holla! I paired my … Continued
Read Post
Behind The Scenes
It's NYFW! You know what that means, time to shine! I was thrilled to partner with jewelry brand, ZAXIE By Stefanie Taylor, after discovering their baubles at a recent launch party in NYC! For my first day of shows I chose some of my favorites from the collection, each for Under $100! Hello "Under 100 … Continued
Read Post