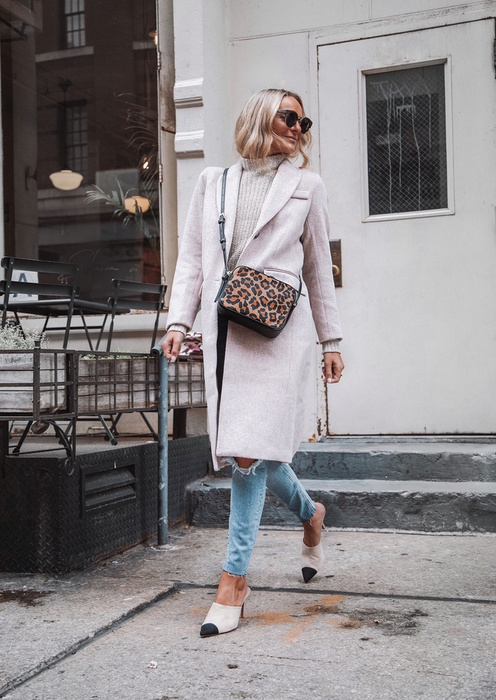 Style Guide: Cool Coat Round Up
Style Snap
Warning: colder temperatures ahead! No, really this time! After a weekend in Florida, I landed to a serious weather wake up call in NYC! Feels like the right time to pull out that under $40 coat steal via H&M! Yes, you heard it right! It's a major "Under 100 Club" moment! In an effort to keep up the good outerwear spirit, here is my mega round up of chic transitional toppers to to help you crossover to the cold side (or make that warm side). Shop so many good coats for under $100 below!
My Look: Coat, H&M/Bag, The Sis Kiss/Shoes, Revolve
Photo: Jae Seok #ShopStyle #myshopstyle #under100club #stylesnap
Nailed It
My favorite celebrity looks
Nailed It
Oh, the always chic Charlize! Let this look be our answer to layered luxe for Fall please! How many times do we fear that evening out come colder temps?! (Yes, it's happening. Thanks NYC!) The question of what to wear gets SO much harder! Look no further than Charlize and her layers of Dior as … Continued
Read Post
Nailed It
Bonjour couture! Let's build a little Parisian dream wardrobe shall we? I'll take one part Shay Mitchell (hello return of the teddy coat)…who, by the way, is totally pulling off that cliche beret. For a notch up on the dressy scale, let's move on to Thandie Newton's chic separates at Louis Vuitton. To finish things … Continued
Read Post
Nailed It
Of all the fashion to come out Milan, in all of fashion month, I have to admit my bargainista heart beats hardest for this denim jumpsuit look on Freida Pinto! This has "live in it all day, every day" written all over it! Who's with me? The best part? It's under $150 from Madewell! Thanks … Continued
Read Post
Nailed It
She is Victoria Beckham, hear her ROAR!!! Leave it to the poshest style star in all the land to design, stylize, and wear this season's hottest trend via herself! Warning: me talking about animal print is going to be like me talking about polka dots this past Spring, in that you're going to hear it … Continued
Read Post
Behind The Scenes
Join me as I go backstage and on the red carpet to talk to your favorite designers and celebrities!
Behind The Scenes
Fall Shoe Alert! Let's face it, NYC doesn't go easy on anyone. Especially when you're running around in stilettos! One step out the door, and there's that pothole! NYC you've met your match! Time to meet The Riley by Kenneth Cole, aka my new amazing ankle boots to conquer the season in style (because yes, I can … Continued
Read Post
Behind The Scenes
Where are all of my influencers at?! This really is a brand new territory for me as of 2018, so I was excited to sit down with Rachel Zeilic of Clique Media to talk all things on-camera and getting started in influencer-land! For me, as I work with the goal of building a social media … Continued
Read Post
Behind The Scenes
Where the front row meets my Under $100 Club!!! I was so excited to take Payless behind the scenes for the Christian Siriano Spring 2019 fashion show! The best part? Along with the incredible runway style and the star studded front row (think Carmen Electra to Whoopi Goldberg)…my AMAZING booties were under $40! Holla! I paired my … Continued
Read Post
Behind The Scenes
It's NYFW! You know what that means, time to shine! I was thrilled to partner with jewelry brand, ZAXIE By Stefanie Taylor, after discovering their baubles at a recent launch party in NYC! For my first day of shows I chose some of my favorites from the collection, each for Under $100! Hello "Under 100 … Continued
Read Post